A look at the holidays with a twist
Nov 20, 2019
Two of my figure paintings deal with how we celebrate the holiday season in the United States. With a cursory glance, they may seem like just pretty paintings with various figures painted in the Photorealism style.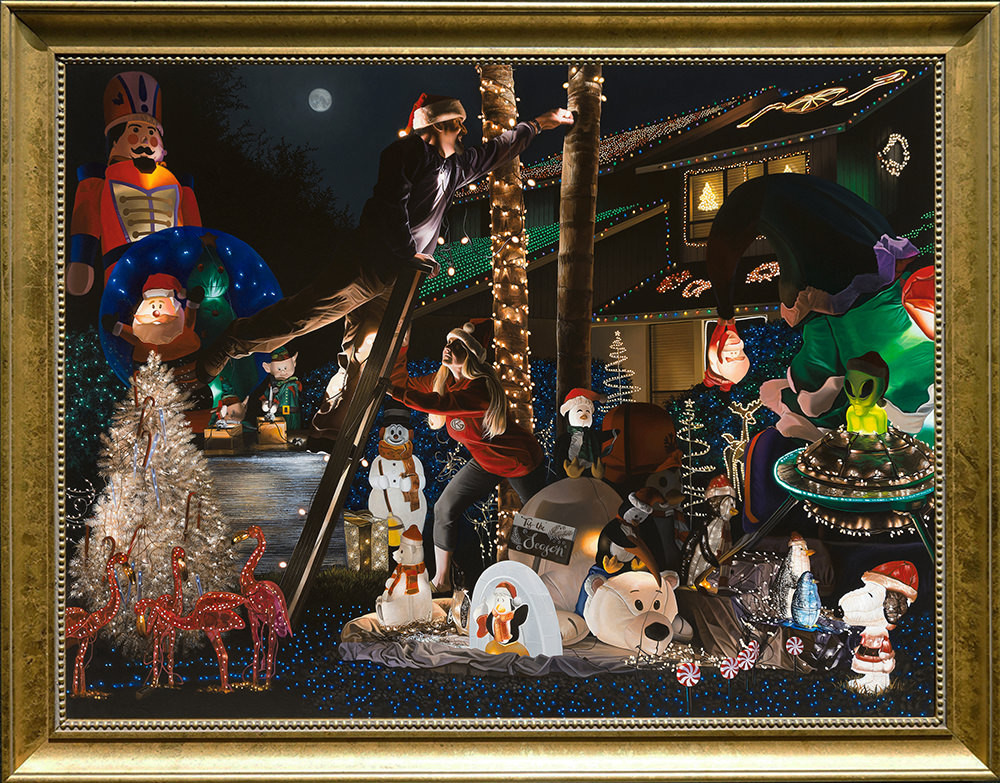 Tis the Season, Acrylic on panel painting by Kevin Grass, 44.5" x 34," 2016.
My Tis the Season piece, for example, features a couple precariously balancing as they string Christmas lights around a palm tree trunk in their elaborately-decorated front yard. The male model intentionally resembles the huge inflatable nutcracker swaying on the left behind him.
Their home shows an explosion of Christmas decorations, from Santa and elves, to penguins and polar bears, to pop culture icons like Snoopy. Less traditional among the decorations are the flamingos and a green alien.
With the abundance of lights and decorations, at first it may not be apparent that a crucial element of why we celebrate Christmas appears to be missing in this image. Where is Jesus, whose birthday is the reason for celebrating Christmas?
In all the hubbub, the Christ child seems to be absent. Only discerning eyes will find a tiny brown crib with Jesus in the lower left corner beneath the flamingos. (It's probably too tiny to see in the online reproduction here.) Usually small children are the first to spot Jesus when challenged to do so. Maybe it's because the tiny figure is closer to their eye level? Or maybe it's because they are more used to finding visual clues in such picture books as the "Where's Waldo?" series?
In any case, while many people have enjoyed my Tis the Season painting primarily because they love elaborate holiday decorations, I wanted to give viewers more food for thought. If we forget the reason for commemorating Christmas, then we will be left with just a time of extravagant decorations and obligatory gift-giving. I'd like people to remember that we honor this season for a larger, and more important purpose: the birth of a savior who was meant to bring peace to the world. There's still some work left to do on that front. . .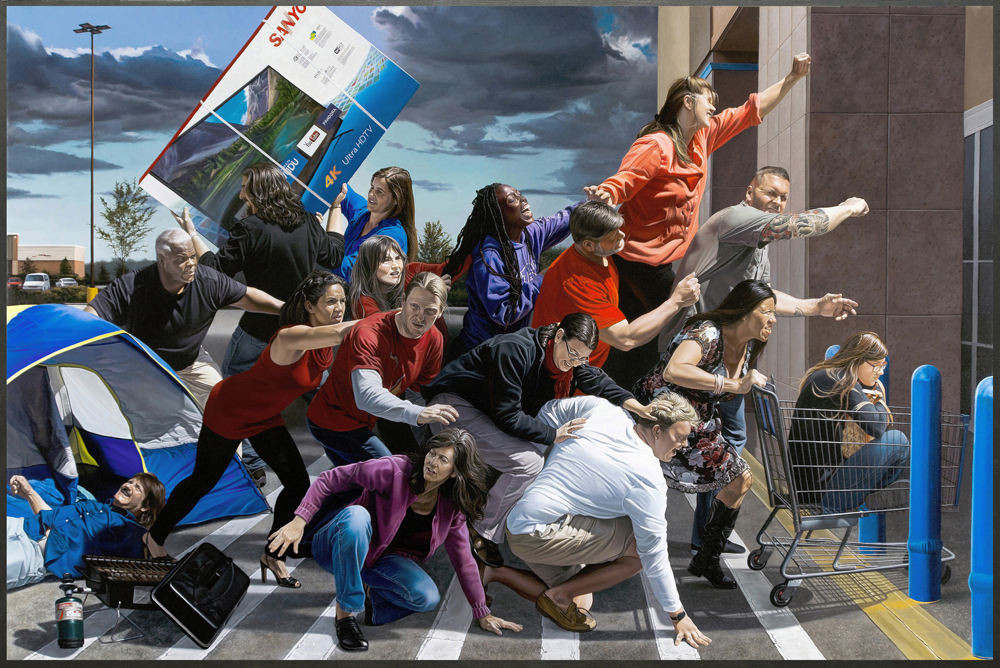 Black Friday, Acrylic on canvas painting by Kevin Grass, 72" x 48," 2016. Prints are available in the "humorous prints" gallery.
When most people first look at my Black Friday painting, they burst out laughing. And that's a good thing! In this large painting, I wanted to take a look at how many Americans spend the day after Thanksgiving.
Thanksgiving began as a day to celebrate a successful harvest and the bounty of the previous year. These days, Thanksgiving mostly involves a massive feast and watching football on television for many Americans. Attending a religious service on Thanksgiving is not as common. But many people take a moment to say a blessing before they serve a large meal, featuring turkey and/or ham and other delicacies.
But the day after we come together in the United States to give thanks for our blessings, it has become a tradition to storm the stores in hopes of snagging a great deal. The tradition of "shop till you drop" is so much part of the Friday after Thanksgiving, that some eager savers even camp out in front of some of the big box stores so they can be first in line to put one of the loss leaders into their shopping cart.
Yes, the savings on some items like television sets and cameras can be significant, if you are one of the lucky folks to be in line early enough to grab these offers. But most people have television sets, cameras, and the myriad other items in their households already.
That's why there is no need for people to trample over others, elbowing them out of their way, in order to obtain such sales items. Every year, there are people who are injured in the stampede to get desired items. Think about that.
People are getting hurt, and in extreme cases, even killed, so they can get a better discount on goods that they probably already own.
While my painting pokes fun at the Black Friday shopping tradition, even likening it to the American football games that are so popular on Thanksgiving, it has a more serious message. It invites viewers to see how ridiculous some of the commercialism of the holiday season has become.
I am hoping that I am giving my viewers not just a visual feast with these intricate paintings, but also a larger message to digest. I want to bring awareness of how some of the holiday traditions have gone overboard to the extent that we miss the point of enjoying the season. The greatest gift you can give your loved ones is to be present.
Right after you give them one of my original paintings or prints, of course. : )
Seriously, I wish you and your loved ones many blessings. Thanksgiving and Christmas can be stressful for many people, whether it's because they miss loved ones who have passed away, or because they do not get along with extended family members. Doing something together (besides watching TV), such as going to look at an art show might lift your spirits.
I hope you enjoy my artistic efforts. You can see several of my paintings on display in the St. Petersburg College faculty art show at the Leepa-Rattner Museum in Tarpon Springs from September 19, 2020-February 9, 2021..
Thanks for reading my blog and I hope you have happy holidays.