How to categorize my figure paintings
Aug 22, 2017
I finally found the answer! I have been trying to come up with a suitable way to describe the proper niche for my artwork for a while. For one thing, everyone tells me that it will be easier to market my work this way.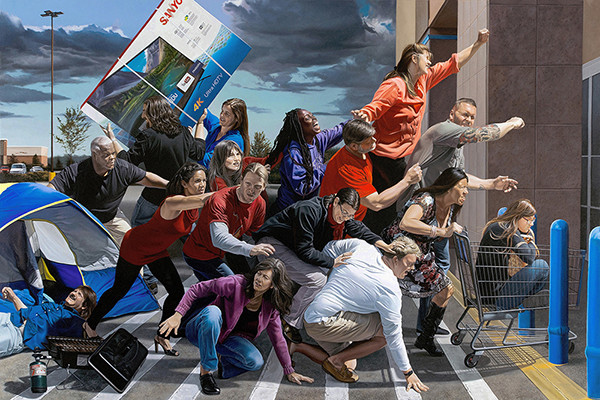 Black Friday, Acrylic on canvas painting by Kevin Grass, 72" x 48," 2016.
With an online store on this new website, I need to have the right keywords so that people who don't know my name or my work already can find my paintings. Lots of brainstorming with my wife and friends later, I was still stumped.
My mother-in-law came up with the perfect explanation: I make "Zeitkritische Gemaelde." But it's in German, and if you translate it literally into English, it sounds like "time-critical paintings." That's not what her phrase means and there's no good equivalent. So that is a non-starter.
Many of my paintings have a social commentary component and I use symbolism to convey the meanings. "Allegorical realism!" I declared as the right designation for what I paint.
Turns out there's another artist named Kevin who already has dibs on that phrase. Besides, it appears no one is searching for "allegorical realism" art. Sigh.
After much more searching, and some fine input from my Facebook friends (thanks guys!), I did find a term that explains what I do: I paint realism genre paintings.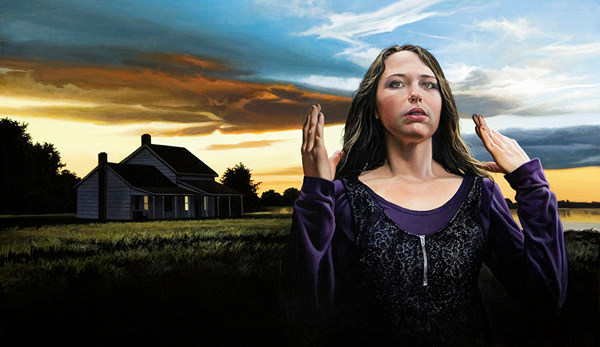 Thirteen, Acrylic on panel painting by Kevin Grass, 34" x 20," 2012.
That term can be confusing, however, because aren't there several categories of genres in Western Art? I found an excellent blog by art historian Ellen Oredsson that explains the The Difference Between "Genres" and "Genre Painting."
Read Ms. Oredsson's informative blog and then look at my figure paintings. Would you not agree that this is a terrific way to describe what I do?
If you can think of anything better, I'm still open to suggestions. Trying to position my art in a niche for marketing purposes is turning out to be more challenging for me than actually painting the works. And most are not that easy to paint. . .
-- Kevin