You can still commission small portraits: it's a great present idea!
Aug 01, 2020
It's been a while since I've done a blog post because I had to recharge my creative juices. After years of doing major art fairs, and ArtPrize in Grand Rapids, Michigan, I was just exhausted. I was also at a loss as to what to paint next. Various ideas I tried went nowhere. People liked the works on social media outlets, but hardly anyone was buying my artwork.
A small memorial portrait commission reminded me how much I like painting portraits. One of the stumbling blocks for some people who like my work has been the price. I paint slowly and meticulously and getting just the right look in a painting takes a significant amount of time. I have been told that I should just paint faster, or do more loose works in an Impressionistic style. But that's just not me. That kind of work can be had from multiple outlets already. It's not what makes my work special.
I am proficient in the techniques of the Old Masters in the realism I use in my work. This is a skill set that has taken all my life to develop and something that few artists possess in an era of instant gratification. How could I create something special for fans that is still affordable?
Then I painted a small portrait of our son when he was younger for my wife as a present. Because I worked from a good photo and kept the composition simple, I was able to bring my quality to a smaller piece. I thought: this is something that others might like!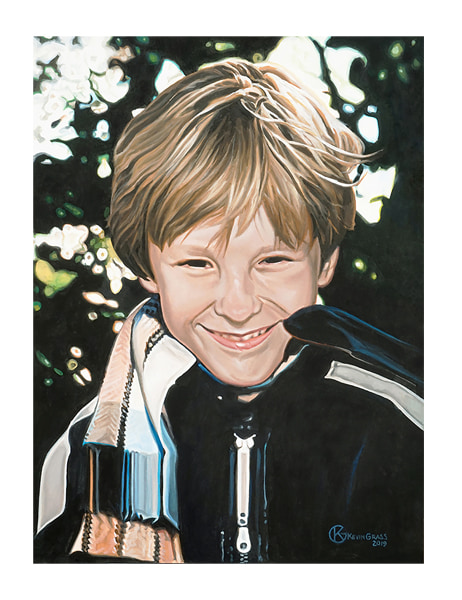 This portrait of his son Nicholas as a young boy was painted by Kevin Grass as a Mother's Day present for his wife.
What if I offer to do 8" x 10" portrait commissions for the flat rate of $750 plus $20 for shipping via USPS within the United States?
That is considerably less expensive than my typical portrait commissions and would only work for a single bust with a simple background. If someone wanted more figures, larger sizes, or a complex background, they could still revert to my typical prices for portraits, available upon request.
And what if someone wanted such an 8" x 10" portrait of a beloved pet, rather than of traditional figure? I have painted pets within larger figure paintings in the past but am attached enough to our furry family members that this seemed like a good idea!
I painted a sample painting of a collector's beautiful Italian greyhound. He was thrilled with it!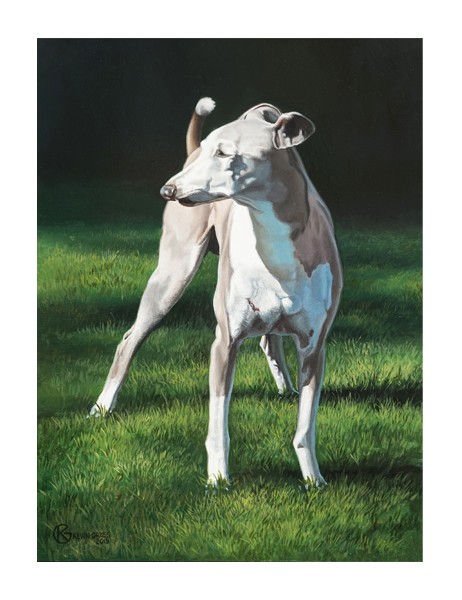 Bart is an Italian greyhound I painted for one of my collectors.
So, here's the great gift idea: order a custom 8" x10" single figure portrait of a person or a pet for the online-only price of $750 plus $20 for shipping within the United States. This is the kind of offer that is a direct-from-the-studio price and not available via a gallery or designer. This kind of piece does not include a frame, but you can easily pick up an inexpensive frame on your own since this is a standard size.
Contact me via my email at fineartfan@hotmail.com or by calling my home at (727) 942-9020 to discuss your present idea. Include a great photo or two of the subject you would like me to paint. If you act soon, I may even be able to finish your commission in time for the holidays.
What do you think? You will be on the "most favorite" list if you give a gift of original artwork like this!
Thank you for reading my blog post. My new series of Lame Ducks paintings is live now and I hope you enjoy these smaller, humorous images. I will be adding merchandise with the Lame Ducks motifs to this website in the coming months. And if you have a special idea for a duck-oriented pun that you'd like me to paint, I'd be happy to do a commission, of course!