I'm thankful that Hurricane Irma spared us and am giving back
Sep 24, 2017
By the time Hurricane Irma hit our house, it was "just" a Category 2. It still sounded as if we were stuck in the middle of a washing machine during the height of the storm.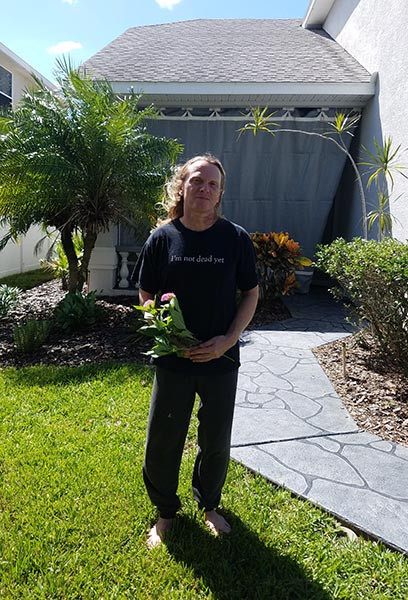 I wore my "I'm not dead yet" t-shirt in anticipation of Hurricane Irma coming to visit.
I am glad that I put up our hurricane shutters with our son Nicholas, even though initially the spaghetti plot models had the storm hitting the east coast of Florida and I thought I might be able to get away with not bothering with all this work, since we have a two-story home.
Our family lives by a "better safe than sorry" kind of philosophy and since we cannot afford to insure my paintings, hurricane shutters and moving the pieces upstairs in case of a high storm surge is the only "insurance" we have. We finished in time, so I could sit down and continue painting on my Expedition painting for a short while.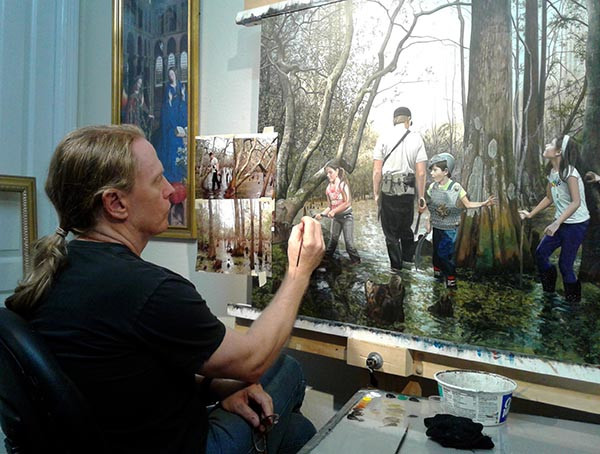 I am working on my Expedition painting for a little while before Hurricane Irma comes to visit.
That's when our brand-new next-door neighbor knocked to see if he could borrow some tools. He had purchased plywood for building shutters for his home, but the contractor he had hired to build them never showed up and he was getting nervous with this massive storm approaching.
Nicholas and I helped our neighbor for hours, since it was clear that this young man had never built anything like this before and he was just concerned with protecting his first home, his beautiful wife, and two little girls. By nightfall, another neighbor had brought over extra tools, flood lights and fed us pizza to keep us going, while rain was already streaming down hard at times.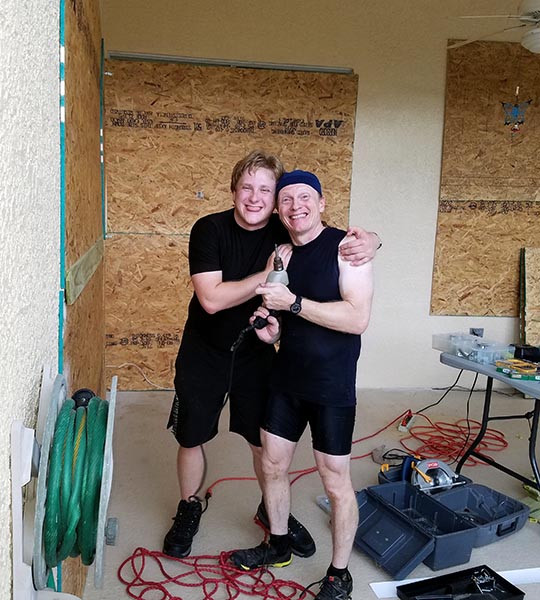 Our son Nicholas and I taking a break from building hurricane shutters next door.
We got all except one window on our neighbor's home done that night, and he could board the last one up before the storm hit. Other neighbors who evacuated left their keys with us so we could check on their properties after Irma had passed.
We lost power after the storm raged through our area, but thankfully cell phone reception was still great, so we could let our family and friends know we were okay via social media and texting.
Power came back after about 16 hours, so we did not even lose the contents of our freezer. Internet, phone, and cable were out for four days and we only noticed that it was back in service when someone called soliciting us.
Our garden looked rough after Irma's visit, but hours of arduous work by Nicholas and myself put it to right again. Our pond had tons of leaves in it, including magnolia leaves, which we found are poisonous to fish. In the end, we lost 14 goldfish, and our koi has taken temporary residence in our bathtub as we tried first a partial water change and now will try a full emptying of the pond to get the chemicals right.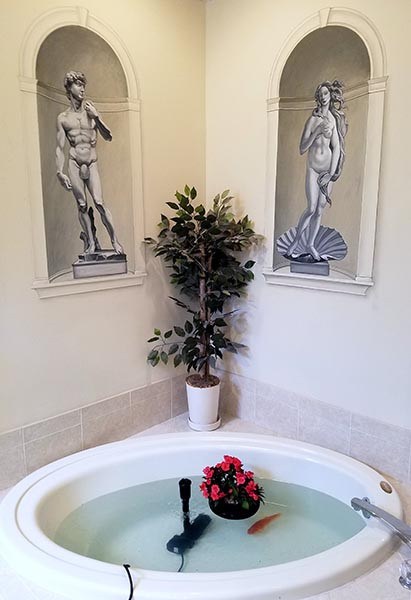 Our koi is still living in the bathtub until our pond is right.
Our son had a bad cold when he came home from college to help with the hurricane. My wife and I promptly caught it and are still feeling under the weather.
Overall, however, our damage from Hurricane Irma is minimal. We bonded with our neighbors. We lucked out!
To give back, I plan to donate part of the proceeds from my website art sales for the next month to Hurricane Irma victims via the Red Cross. So, please buy some art or prints and help for a worthy cause!
Pass on this blog post or just a link to my website at www.kevingrass.art with a note that any purchases made between now and October 25, 2017 will have part of the proceeds go toward Hurricane Irma relief.
Thanks so much for your support!
-- Kevin
P.S. I sent the Red Cross the check and now I am their new pen pal. : )