The Creation of "Biker Chick"
Aug 22, 2021
Biker Chick was created as a result of a commission that I received via an exchange of direct messages on Instagram.
The Commission Process
It is extremely important when completing a commission to make sure that clients are getting what they want. I get as much information from them as possible before I begin to design their painting, including descriptions of what they would like and visual references. My client for this commissioned painting is a professional tattoo artist. She was interested in an image with a tattooed yellow rubber duck and, after discussing several ideas, we decided to go with the theme Biker Chick.
The images of biker chicks that I found online usually picture a leather-clad young woman on or next to a motorcycle, either in an alley or on the open road. I made a "leather" outfit for the rubber duck with black electrical tape based on these images. A helmet that I used for another painting fit the rubber duck that I chose for this piece and, because it has red flames, I decided to go with a red toy motorcycle.
I completed an 8" x 10" graphite drawing of the subjects, in which I worked out the lighting and adjusted the scale relationship between the rubber duck and the toy motorcycle. I made several small copies of the drawing which I used to develop three different backgrounds, with a full range of colors and values. The whole idea is that the client has a very clear idea of how the painting will look when it is finished.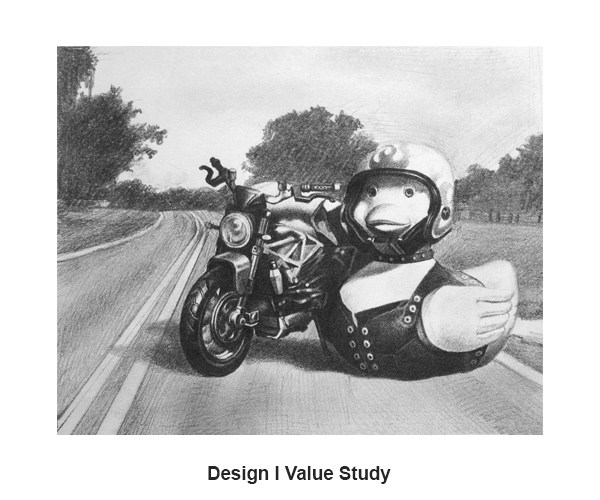 When presented with the three options, my client decided that she liked the alley, but suggested placing the subjects in front of a tattoo parlor. That was a brilliant idea, since my client is a tattoo artist. I immediately completed a fourth design, which allowed me to incorporate more of an image provided by my client into the large window on the right. It is a great example of how a design can become richer and more effective when working with a client.
The entire painting process was posted on social media so that my client could see the development of the image and offer input. My wife and I also created a two-minute time lapse video, which can be accessed via my website.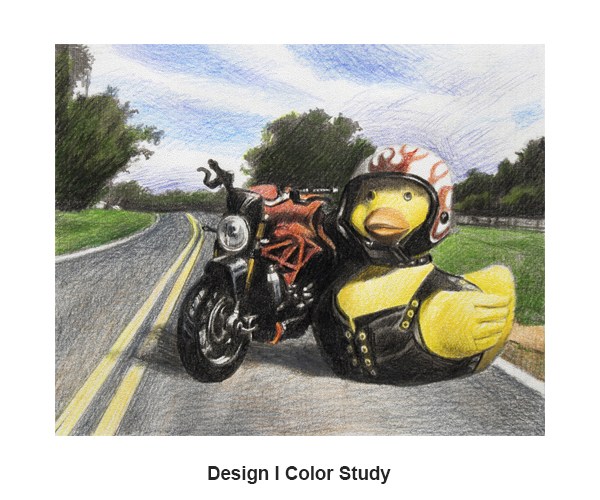 The Painting Process
I recently switched to Alumacomp aluminum panels because they don't warp, crack, split, or rust – all problems that I have had with other surfaces. I prepared the surface with two layers of metal primer, followed by four layers of acrylic gesso, which I sanded to a smooth finish. I enlarged the final design and transferred it onto the finished surface with carbon paper.
I prefer working with acrylics because I do not like the long drying times and toxic chemicals associated with oil painting. This commission was completed with Golden Open Acrylics, which stay wet and workable longer than traditional artist acrylics. If I work in small areas, I have sufficient time for development of gradations and edges.
The acrylic colors are extremely transparent, especially the yellows. Developing well-controlled, even gradations and rich colors in the yellow rubber ducks can take as many as five separate passes, with several layers applied in each pass. I prefer applying the paint with soft-haired liner brushes because the gradations and edges are easier to develop than with brushes that have shorter or stiffer hair. I have a few sable brushes if I need to soften the gradations further, but it is usually not necessary.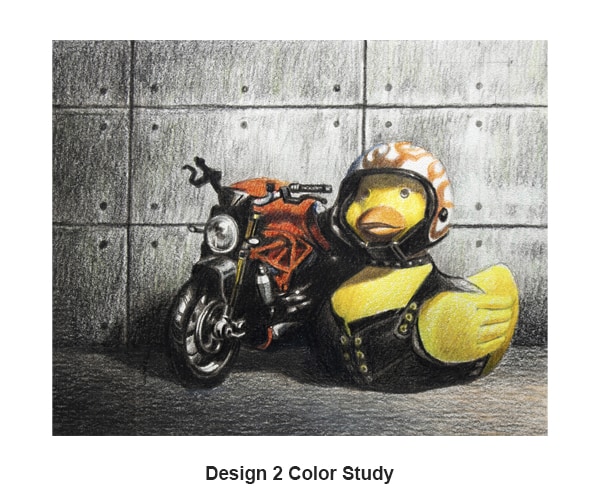 A final varnish is applied to the painting one to two weeks after it has dried. The varnish must cure for about two weeks before the image is framed.
Still Life
The biker chick and motorcycle are drawn from a still life and the setting is based loosely upon several photographic references of local tattoo parlors. The leather top for the biker chick is made from black electrical tape.
Drawing
The toy motorcycle was too small in relation to the biker chick, so I enlarged it in this 8" x 10" drawing, completed with graphite pencils on white paper.
Designs
I reduced the size of the drawing on a photocopier so that the copies would be 4" x 6." Backgrounds are added to three of these copies with graphite pencils, and color is developed in photocopies of these full-value drawings with colored pencils. A fourth design is created based upon input from the client. This becomes the final design for the painting.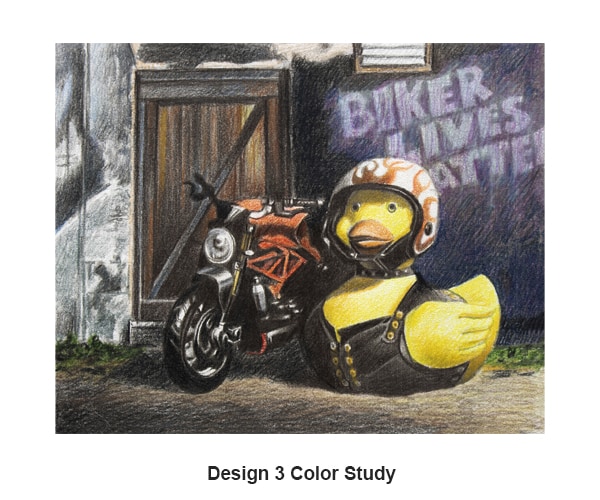 Materials I used:
Golden Open Slow-Drying Acrylic Paint
Prussian Blue Hue

Ultramarine Blue

Titanium White

Titan Buff

Hansa Yellow Medium

Diarylide Yellow

Yellow Ochre

Mars Yellow

Pyrrole Orange

Pyrrole Red

Alizarin Crimson

Burnt Umber

Raw Umber

Carbon Black.
Painting Medium
Combination of Golden Open Thinner, a little water, and about 20 drops of Golden Wetting Agent in a 2-ounce container with a lid.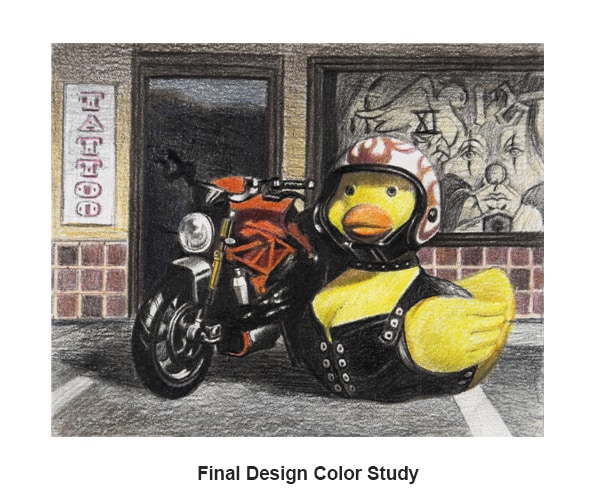 Brushes – All are synthetic sable brushes.
Arist's Loft Vienna Round, 18/0 and 10/0
Master's Touch Liner, 20/0
Master's Touch Script, 1 and 2
Ebony Splendor Rigger, 1 and 3
Master's Touch Round, 2 and 6
Surface
8" x 10" Alumicomp panel
Additional Supplies
Carbon paper
12" metal ruler
Latex metal primer
Utrecht Professional Gesso
Liquitex Slo-Dri Fluid Additive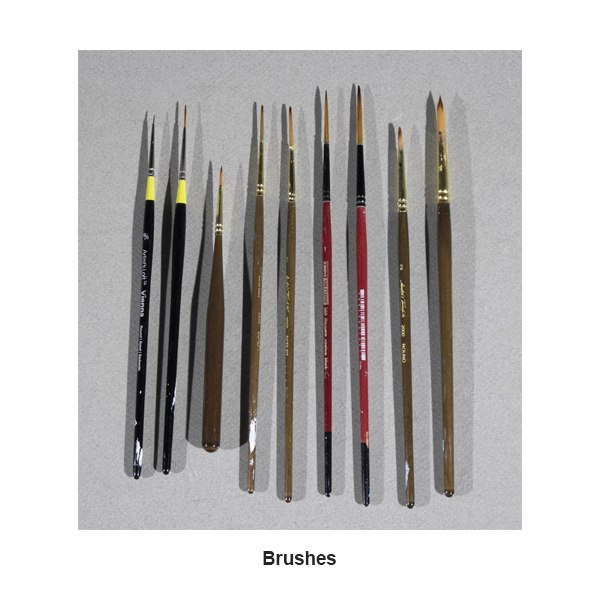 Small container with a lid for the painting medium
Plastic bowl for water
Cloth for wiping excess paint off the brushes
Glass palette
Colored pencils and graphite pencils for the studies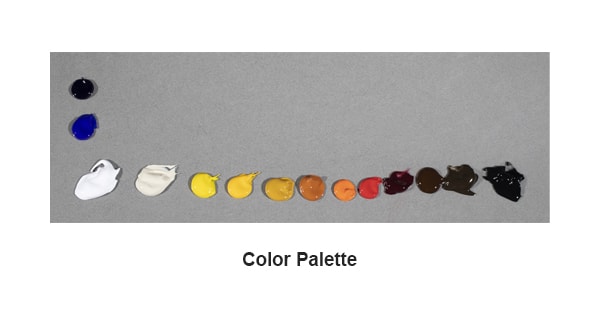 This is the finished work: