The Making of "Getting All Your Ducks in a Row"
Mar 14, 2021
I thought that it would be appropriate to start with the first painting in the series, Getting All Your Ducks in a Row.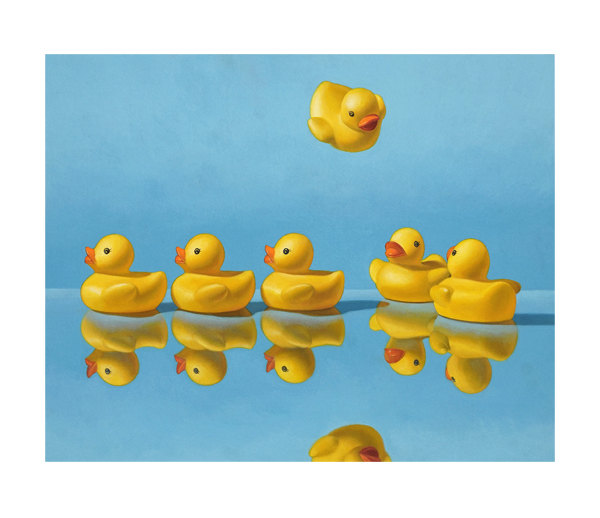 In spring 2019 I decided that it was time to change direction in my work. Until that time, I devoted my creative energy to two bodies of work: hyper-realistic figure paintings that dealt with contemporary social issues and a series of landscape paintings. Unfortunately, sales of original paintings were dwindling, and my storage racks were reaching full capacity, so something had to change.
I had recently completed a few still life paintings that fit within the oeuvre of the figurative work and was amazed by how much easier it was to work from life. Details and color that I captured in Sugar Baby and Memento Mori were simply not possible when I was forced to rely on photographic references. So, while I searched for a new direction in my work, I decided to do more work from still lifes, fully developing the examples that I started for my college painting students.
Around the middle of fall term 2019, as I was preparing to set up a still life for the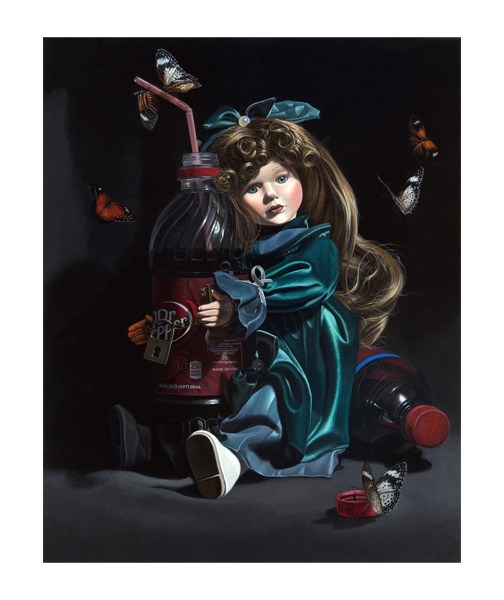 demonstration of a full color painting, I looked around the collection of subjects in the painting studio and decided that I needed something different. When I returned home that evening, I noticed the small collection of rubber ducks that my wife, Michaela, had purchased at Achieva Credit Union and set up around our bathtub. I started arranging them in various ways and decided that they would make great subjects for my demonstration the following week.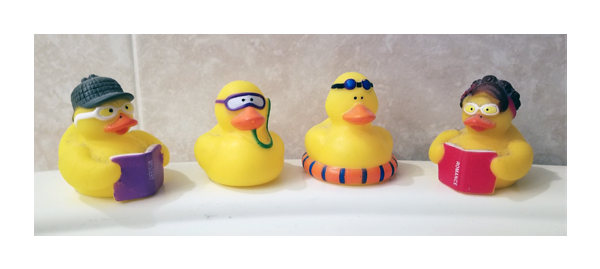 Naturally, I gravitated toward more narrative content when I was designing the still lifes. When I started thinking about content and the titles for each composition, various idioms incorporating ducks came to mind, which then led me to begin a list of puns involving the word "duck." I sat down with Michaela and our son, Nicholas, to develop an initial list of about 40 puns that could be used as themes for still life paintings. That was when I knew I had a good idea. One of the ideas we had listed, Lame Ducks, became the official name of the series because many of the puns were extremely "lame" and worthy of a groan.
I decided I would use unadorned yellow rubber ducks as the main subjects for the Lame Ducks paintings. This forced me to be more creative if the ducks needed accessories. Getting All Your Ducks in a Row was a good theme for the first painting because 1) the idea was fairly simple and 2) it was interesting to see if I would maintain my interest when painting several rubber ducks.
I chose rubber ducks that look like ducklings as the subjects for the painting and placed them in a box with three sides and a floor covered with light blue cloth. I needed to use a box because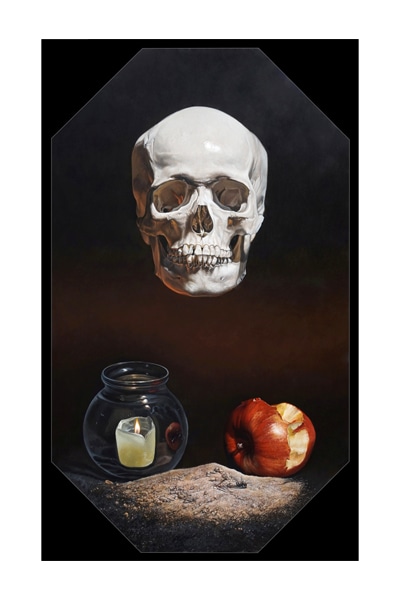 the still life had to be portable so that I could take it back and forth between my home studio and the painting classroom. I placed an 8" x 10" panel of plexiglass on the ground plane so that it resembled water. The number of ducks in the painting doubled because of the reflections.
The composition needed to look like the ducks were in the process of getting in a row, so I aligned three of the ducks on the left and placed two on the right that were in the process of getting in line. Various adjustments were made until I was satisfied with their alignment, but something was missing because there was negative space around the ducks and their reflections. To address this problem, I introduced a flying duckling that was placed on a heavy-gauge wire armature.
I did not have a good surface for staging the still life in my studio. I needed something adjustable so I could control my viewpoint in relation to the subject. I used some old IKEA shelving and combined two of the shelves for the vertical back "wall." To this, I attached a third shelf using hinges and chains, which would serve as my "floor." Metal L-shaped brackets were attached to the bottom and top of the structure so that it could be safely held in place by my wall easel.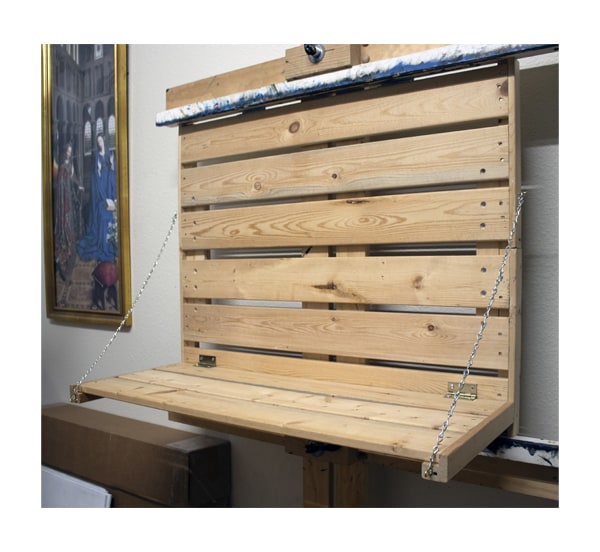 I began painting the piece as a demonstration for my college painting students. I used yellow ochre and burnt sienna in the underpainting to address proportions, scale relationships, and placement. Slightly exaggerated color and value relationships were then created using a full color palette. As I continued to work on the piece, however, I noticed big discrepancies in proportion throughout the painting. To alleviate the problem, I made a stencil of a rubber duck in profile so that the row of ducks and their reflections could be corrected. The stencil also served as a guide for proportions in the other three ducks.
Nothing in the painting was difficult for me to complete, but everything was quite tedious. Yellow is notoriously transparent, especially in acrylic paint, so I had to go over the ducks at least six different times, with several passes required each time, so that gradations were even, and colors were solid.
Probably the most difficult part of painting the ducks was the blue that appears in their reflections. This was achieved by combination of direct painting, scumbling, and applying heavy glazes.
Creating soft gradations with acrylic paint in large areas is not easy. I pre-mixed two batches of blue, one lighter than the other, to make it a little easier. It still required multiple passes to get the gradations to work properly. Some inconsistencies were left in these large areas intentionally to make the space seem more realistic.
I wondered if I would get bored with painting rubber ducks, especially since there were twelve of them (including the reflections) in this piece. However, as of March 2021, I have painted almost 70 yellow ducks and have not tired of them yet. They are a lot of fun to work with and I look forward to sharing their adventures as I continue to develop the Lame Ducks series.