What I learned at the Figurative Art Convention
Nov 21, 2017
I didn't know what to expect from the first ever Figurative Art Convention and Expo (FACE) that was held in Miami. When I got home, I was most excited about a demonstration by Max Ginsburg (more on that later), but I was not so sure that I had learned anything substantial that would affect how I do my own artwork.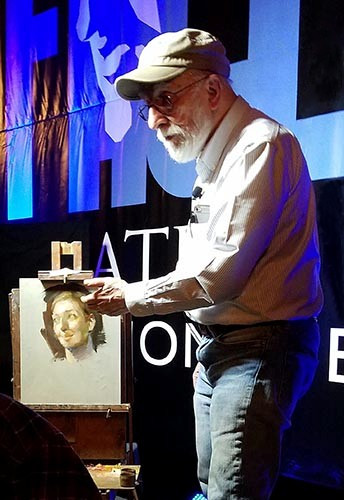 Here is Max Ginsburg during his portrait painting demo at the FACE convention in Miami.
But now that I've designed my newest painting, a piece with almost life-sized figures, I realize that hanging out with renowned realism artists and watching their demonstrations may have had more of an impact than I first suspected. To see this work-in-progress, I recommend following my business Facebook page or friending me directly on Facebook here.
Let me back up a bit. There were several reasons that I wanted to go to the FACE conference this year.
To learn new drawing and painting techniques, especially things that would make the process go a little faster.

To connect with established figurative artists.

To learn presentation/teaching techniques from the demonstrations.

To discover new drawing and painting materials.

To learn innovative approaches for the business of art.
I was most interested in seeing the painting and drawing demonstrations because I was hoping to learn new approaches that would make my process faster, more accurate, and more efficient.
I saw painting demonstrations by Max Ginsburg, Sherrie McGraw, Daniel Gerhartz, and a drawing demonstration by Juliette Aristides. Each demonstration was about two to three hours long. For people that were sitting further back (front row seats were reserved for VIP's who paid considerably more for this privilege), there were two large screens on either side of the stage that showed the artist working on the piece, the palette, and the model.
I didn't feel as if I learned anything new in the demonstrations, particularly about how I can speed up my process. But they did reinforce my approach to drawing, painting, and teaching. And that was something which I needed to hear.
The best of the demos was a sculpture demonstration by John Coleman. He modeled a young girl's head from clay, transformed her into a teenage girl, and then into a Sioux warrior, all from his imagination.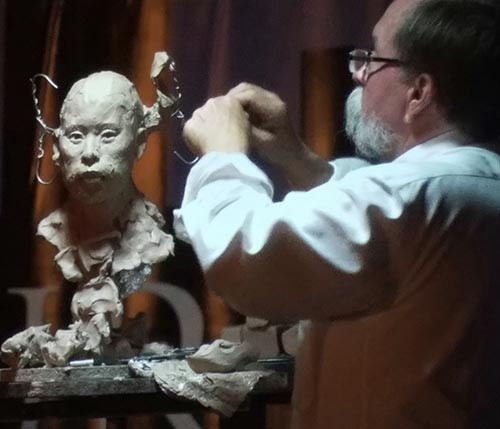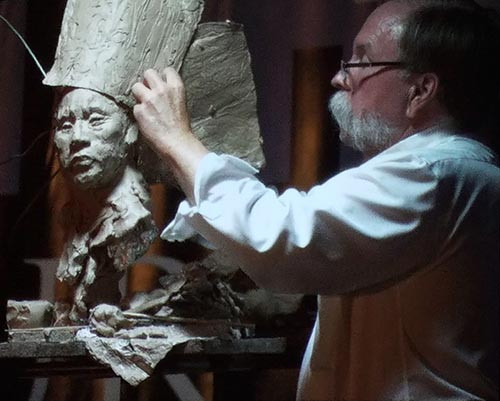 John Coleman transforms a teenage girl into a Sioux warrior in a sculpture demo during the FACE convention in Miami.
Several lectures informed about the business side of art and might have been useful for me a few years ago, but most of the information addressed things that my wife Michaela and I have already been working on.
Some talks highlighted the resurgence of figurative realism in contemporary art, as exemplified by the growing number of ateliers and the increasing attendance at these new centers for academic art.
A few speakers said that it is most effective to use traditional methods when dealing with contemporary themes as opposed to historical ones. They held up the work of artists like Steven Assael, who was at the conference, and whose work I have admired for a while, as a good example of this manner of working. I was delighted to hear that, since that is what I do in my paintings!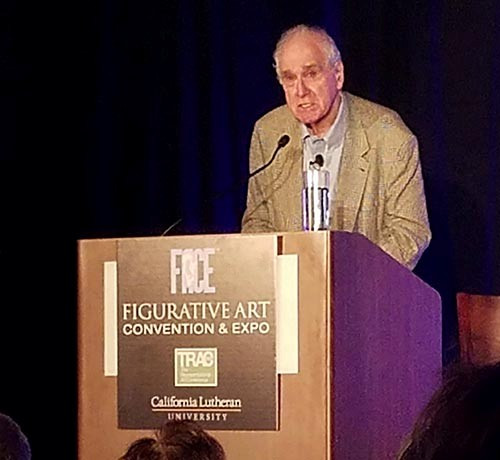 Art historian Donald Kuspit was one of our speakers at the FACE convention.
I got meet artists from as far away as eastern Europe at FACE. I gave business cards to a number of them, but was surprised to find that most of the artists did not bring business cards (which may explain why some are not successful). I was fortunate to meet Caesar Santos, Juliette Aristides, and Max Ginsburg, but they could not talk long because many of the circa 350 attendees wanted to talk with them. I hope I made a few good contacts at the event.
The expo portion of the conference focused on materials, but hardly anyone there works in acrylics, so this portion was primarily of interest to oil painters. I did win a door prize of four DVD painting demonstrations. I hope to watch them over the holidays and then make them available to my college painting students.
The highlight of the conference came at the end: a presentation by Max Ginsburg about his paintings and his working process. Mr. Ginsburg does multi-figure compositions that address social issues and I thought it would help me with my working process. I learned that his design process was exactly the same as mine, which was a complete surprise!
Mr. Ginsburg didn't get to finish his whole presentation due to time constraints. He offered to show the rest of his demo in the hallway to about eight of us who had hung around. It was a treat to have this intimate experience with such an accomplished painter, and was my favorite part of the whole conference.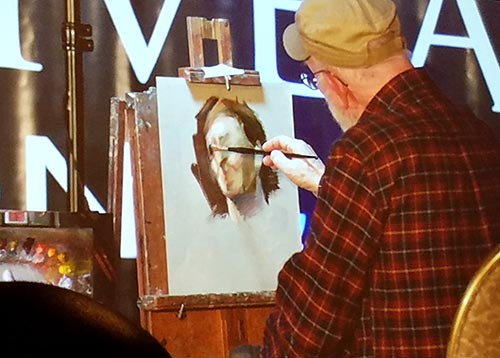 Max Ginsburg painting during the FACE conference.
I returned home exhausted afterward. I have decided to change how I teach my college painting class based on what I saw. I also plan to complete a large-scale figure painting next year for Art Prize, a 19-day international exhibition held in Grand Rapids, Michigan.
When I designed this painting, I realized that I was applying all the principles that had been discussed at FACE. So maybe going to the conference had more of an impact on my art than I first suspected? Stay tuned to my Facebook pages, where you may give me feedback on my work as it progresses.