Where did the ducks come from?
Sep 15, 2020
It is always tough to decide what subjects to use for the demonstrations for my college painting classes. Fall term 2019 I decided that I wanted something different because I was getting tired of using the same old still life subjects. That was when four small rubber ducks on the edge of our bathtub caught my eye. My wife had bought these novelty ducks as part of charity fundraisers and they featured ducks reading and snorkeling. These would make a great subject for a still life and I would get to use a lot of bright yellow, a hue I had only used as an accent color or color modifier.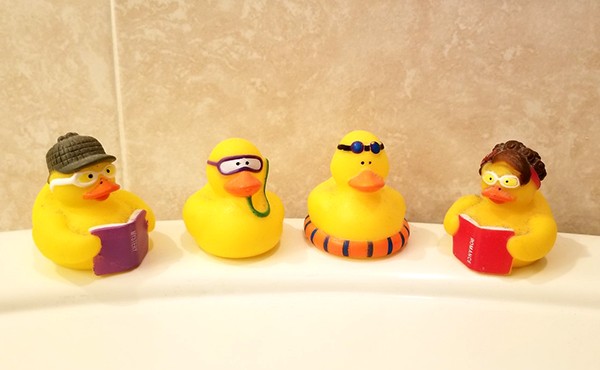 As I pondered what to do with the ducks, my natural tendency for creating narratives surfaced. I started developing ideas with visual puns. I brainstormed with my wife and son, developing a list of more than 50 ideas that could use a yellow rubber duck with a pun or idiom. Instead of solving a problem for a classroom demonstration, I realized that we had come up with a great idea for a fun series of paintings. This could be fun!
I looked at the novelty ducks with accessories again and realized that it would be more creative to use plain yellow rubber ducks and add my own accoutrements to the design. But first, I started with the relatively simple painting Getting All Your Ducks in a Row: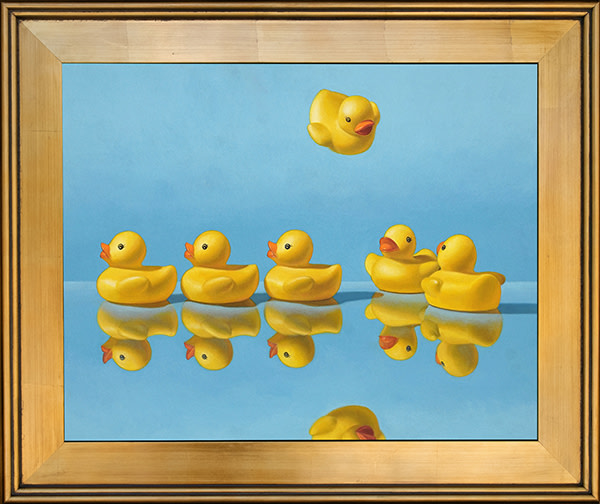 Getting All Your Ducks in a Row, acrylic on aluminum panel painting by Kevin Grass, 20" x 16," 2020.
I did not have far to go to find a plain yellow rubber duck, since my wife had used one as a focusing object when our son was born. And yes, we still had it 22 years later. I had even included that duck in Michaela's panel of the cinerary painting I made for us some years ago.
The Cinerary Painting has an extra-wide frame, designed to accommodate our ashes when we pass. The triptych features side wings that show objects that are important to us, and in Michaela's panel I had already included the rubber duck on a shelf: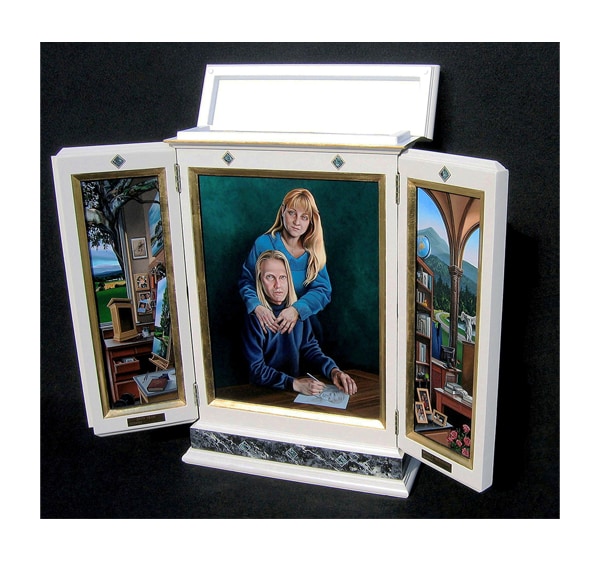 Cinerary Painting, acrylic on wooden panels, painting by Kevin Grass, 28" x 17" x 6," 2005.
If you look closely, you can see the rubber duck on the second shelf from the top in the panel that shows things that are important to my wife Michaela.
A trip to Achieva Credit Union to deposit a check had brought me in contact with the novelty rubber ducks sold for charitable purposes. I amused the teller when I said that they should use a new slogan: "Achieva Credit Union – we give a duck!" She giggled about the word play. People just love bad puns.
I had previously done social commentary paintings because I thought that art should reflect the tenor of the times. Paintings about the opioid epidemic, cyberbullying and suicide, or sexual harassment, while all worthwhile subjects, are depressing. Don't get me wrong: I still think these paintings are important and should hang in a museum to inform people about our era. But they were largely too dark for most art collectors to purchase for their own homes.

I decided to try out my rubber duck ideas because these small paintings are fun and uplifting. They are not going to make important social commentary. But in this time of divisiveness in our country, maybe something lighthearted and enjoyable is more appropriate? I'm giving it a shot and hope that you will enjoy my paintings. They are painted as well as my figurative work, using Northern Renaissance techniques. They are solely meant to bring joy and a fun decorative flair!